Our features
Your business is unique and we tailor our solution to you.
Features to meet your specific needs
Automated temperature reading
Easier management
A summary of the areas to be cleaned, the frequency, the means, the products, the organisation of the schedules and more: In a few clicks, monitor the tasks carried out in real time and the tasks to be done. Supervise your teams and avoid staff oversights.
Accessible at any time
Inspections? Don't give it a second thought. You have access to your information anywhere, any time with full transparency. You won't lose anything. An indispensable tool for managing your HACCP procedures and your Food Safety Management System.
A strong partner
The temperature sensors are provided by our expert partner Koovea. Fast installation, without need for intervention, wireless and designed in compliance with the standards.
100% connected
The Koovea sensors work 24 hours a day and are connected directly to our app. The checks are carried out automatically and you are alerted in the event of non-conformity.
Effective monitoring
No need to check every day. All your temperature readings (fridges, oils, etc.) are centralized and at your fingertips in 2 clicks via the Zest app.
Everything is stored
A check? No worries, the history is archived in your space and can be consulted at any time. This avoids flying paper readings.
Creation of a traceability chain
The application generates its own barcodes directly on the labels to create a chain of custody. In this way, you meet the regulatory requirement for fast and targeted withdrawals.
Centralised data
You can find all the necessary information (DLC, batch numbers, allergens, etc.) very easily as everything is automatically recorded. It's simple as scanning a barcode. You can download or send by email a history of a receipt of goods at any time.
Digitalisation of labels
Farewell to dirty and lost labels. With Zest, photograph them directly on the app in 1 click. Effective for you and for the planet.
Without effort
A photo or scan is enough to manage the internal DLCs of your products. And this just once by reference.
Automated monitoring
Daily alerts alert you to products to be removed, to be paid for, etc. Save time and customer satisfaction.
The history at your fingertips
The data is automatically saved and stored on your space. What to keep track of all your actions.
Tailor-made
You're in charge. Customise the labelling with the colours and logo of your brand to develop your brand image.
In 1 click
Automate the printing of your labels directly with our connected labelmakers. What to do to ensure better traceability.
Innovative
Your delivery orders are generated directly from the app.
Simplicity at work
No more stocking for hours in difficult conditions. By scanning barcodes, you can optimise the management of your stock and improve the working comfort of your team. A guaranteed saving of time!
First in first out
First in, first out. The app allows you to manage the right date rotation for your products: the oldest product will be given priority over all others.
Regular reports
Every two weeks, you receive a summary report that you can extract. A real steering tool for your stores.
Depending on your objectives
Need a new screen on the app? We make it to you on request. Very useful for effectively managing hygiene and quality monitoring at your points of sale.
Extracting data
Need a specific PDF for one of your departments? With the app, this is possible: you can have extensive traceability for a product. All in a single preview.
An overview
You can benefit from a customised monitoring space with histograms of how each employee uses the app over a given period of time. Ideal to accompany quality professionals and do targeted actions.
Discover our tutorial videos

Tuto'Z #01 - Ouvert le

Tuto'Z #02 - DLC à date / Clôture

Tuto'Z #03 - Fabrication / Cuisson

Tuto'Z #04 - Planning des tâches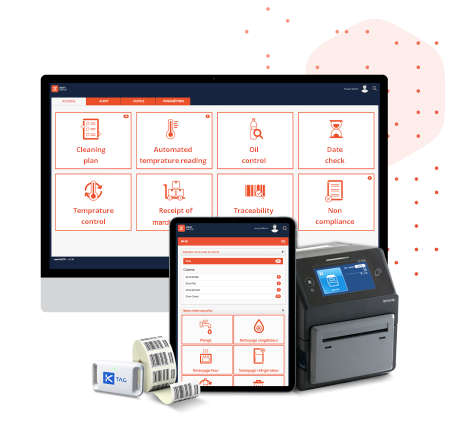 Do you need equipment ? Discover our range
We have selected state-of-the-art equipment tailored to your needs. Tablets, printers, computer screens, temperature sensors, rolls of customisable labels, and much more. We supply everything you need.
Printer
Provided by Sato.
To generate your traceability labels. Two types to choose from: standard and customisable (layout / colours / logos).
Tablet
This is your hands-on tool for using the app on a daily basis. You can choose the language you want.
IP68 specification tablets with high durability for use in all circumstances.
Temperature sensor
Provided by our expert partner, Koovea.
To check your readings automatically and be alerted in the event of non-conformities (the sensor and the app are interconnected).
Manufacturers & Producers
Save time with all the information on a single label.

Distribution
Simplify the tasks for your teams and comply with the obligations of the Food Safety Management System.
Food industry
Forget about paperwork and focus on your business.
Do you run a café, hotel or restaurant? We have created a solution for you.
Sign up for a demo
15 minutes with one of our experts to better understand and get to know our solution.